Colors of Fall Wig Guide – As the leaves begin to change color, so can your hair! Fall is a season brimming with rich, warm colors, and at Wigful Thinking, we believe there's no reason why your wig collection shouldn't mirror this beautiful transformation.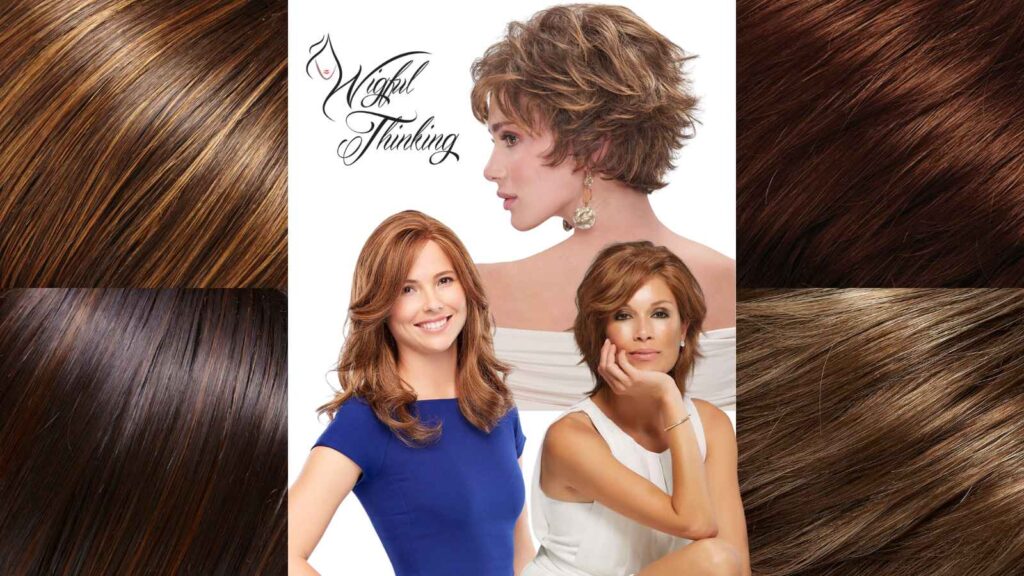 Colors of Fall Wig Guide
The autumn palette offers a range of beautifully earthy and inviting colors. This season, consider stepping out of your comfort zone and embracing wigs in shades inspired by the fall foliage.
One of the standout colors of fall is undoubtedly the warm and inviting pumpkin spice. This rich, vibrant hue exudes the essence of fall, wrapping you in its cozy, spicy embrace. A pumpkin spice-colored wig can add a pop of vibrancy to your appearance and uplift your mood, much like your favorite seasonal latte.
Next in the lineup is auburn. The deep red hues of an auburn wig can match the fiery shades of fall leaves. This color is not only visually stunning but also adds an element of mystery and elegance to your look. Don't shy away from pairing it with a bold lip color for a chic autumnal style.
Then, we have the timeless appeal of chestnut. This warm brown shade can flatter various skin tones with its red and golden undertones. A chestnut wig can seamlessly blend with the autumn landscape and enhance your natural beauty.
Last but certainly not least is golden brown. This color combines the richness of brown with the brightness of gold, creating a perfect balance that can light up any fall day.
The Perfect Wig
At Wigful Thinking, we are committed to helping you find the perfect wig that suits your style, enhances your personality, and boosts your confidence. We understand that changing your hair color with the season might seem daring, but with our comprehensive guide and compassionate service, you'll have the support you need.
We invite you to come and explore the warmth of fall through our extensive wig collection and experience the joy of transformation. Remember, it's more than just a wig; it's a celebration of you and your journey. Embrace the colors of fall and let your hair tell your story!
Visit us at wigfulthinking.com, or contact Wigful Thinking at 609.249.4811 with questions, to schedule a service, or to request your one-hour wig consultation in our design studio.
Visit us on Facebook: https://www.facebook.com/wigfulthinkinghamilton
Visit us on Instagram: https://www.instagram.com/wigfulthinking/