Wig care and maintenance are an important part of your daily routine. Wigful Thinking has you covered.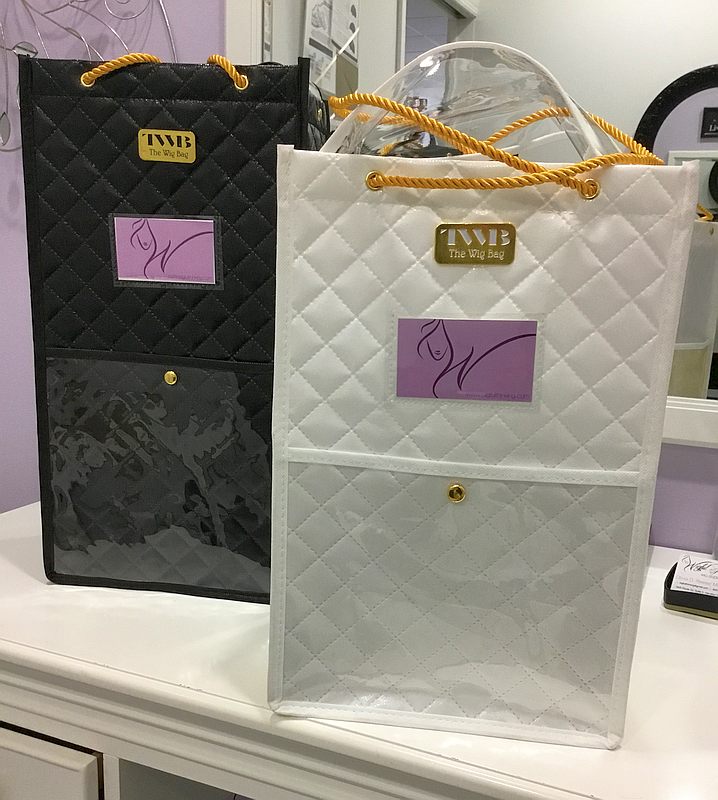 A stylish and compact alternative to a wig box.  Announcing the new WIG BAG
These Wig Bags are beautifully designed high quality plastic bags.
Fashionable – Available in black or white.
Practical – Folds flat when not in use.
Secure – elastic is attached to the bottom of the bag to hold the wig head in place.
Protective – comes with a clear snap off lid to protect your wig from wind and rain.
Functional – Your wig can be placed in the bag for travel or to drop off at your hairstylist.
Stop by Wigful Thinking's Wig Shop today and treat yourself to a stylish wig bag.
Wig Care Facts
Keep in mind, that any piece whether it be human or synthetic, is not attached to the hair follicle that receives blood from the body. As a result, care is required to maintain the blueprint of the piece and the integrity of the hair.
As wigs and enhancements have become increasing natural-looking and manageable, so have wig care products. In addition to shampoo and conditioners, there are gels, detanglers, boho products for that beachy wave look, holding sprays and lustre sprays. These products provide the nurturing needed to keep your piece looking natural and manageable.
Treat your hair piece as you would your own hair.
Would you ever consider not putting some kind of product on your natural hair? The same processes apply with wigs and enhancements.
Be assured that Wigful Thinking will continue to be "cutting edge," not only with wigs, but also with the products required to maintain the life of your piece.
For those with a busy schedule, Wigful Thinking offers cleaning and refurbishing services to include frizz-removal, shampooing and conditioning, setting and styling, and overall refreshing.
Purchasing a piece whether it be for fun, fashion, convenience or hair loss due to medical conditions, is an investment requiring proper care.
To extend the lifespan of your wig, it is important to take good care of it.
Wigful Thinking Wig Studio's expertise can help you choose the products most appropriate for your wig type.
---
Wig Styling Tools
---
Hair Care Products
It's all about you . . . . . .
"When you look good, you feel good!"
Skin care and hair care go hand-in-hand. Hair provides the frame of a portrait; facial skin is the portrait itself.
Wigful Thinking services many markets for hair enhancement; fun, fashion, convenience and hair loss due to medical conditions. We are delighted to now offer Mary Kay Skincare Systems for all of your skin care needs; for all ages and skin types.
Most often, clients on chemotherapy treatments comment on how their skin has taken a toll. They look in the mirror when trying on wigs, touch their face, and see for themselves that their skin is being affected. This repeated response inspired me to provide a skin care line to counteract this side effect.
Why Mary Kay? Before deciding on a product line, I sampled many other product for effectiveness, variety, and affordability. Mary Kay products provide all the ingredients needed to replenish the skin. These products are free from harsh chemicals and fillers. Of importance to mention, the Mary Kay Foundation in Texas supports research dedicated to find cures for cancers that affect women, and programs committed to ending domestic violence.
So it all fit together; Mary Kay's Skincare line is incredible, effective and affordable. Their cancer research efforts are endless in the fight to find a cure for cancer. And to introduce this skin care line, Wigful Thinking will provide a free facial designed for your skin care needs. Prior to your wig fitting session, you will receive a skin-care facial, a light foundation and a bit of color to your cheeks. This makes such a difference when trying on pieces. How exciting is this!
Wigful Thinking will continue to provide services based upon the requests and needs of our clients; skin care has now become one of them. Our variety of wigs, custom sizing, maintenance care and products, and the passion to service all needs will continue to grow.
I've always been a strong advocate for skin care; always. Many clients comment that I have good skin. My response is "I have good skin care." And that skin care line is Mary Kay.
JON RENAU EASIHAIR Human Hair Care Products