Wigful Thinking: Empowering Women Experiencing Devastating Hair Loss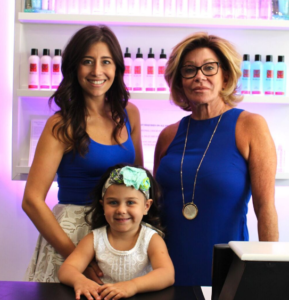 Wigful Thinking was created so that women going through traumatic hair loss, alopecia, or cancer have a safe place to regain their confidence in how they look and feel.
Today we are proud to have served hundreds of women with real hair wigs, synthetic hair wigs, private wig consultation rooms, and "toppers" from our Hamilton, New Jersey salon.
"I am so glad I found you!" is often the response we receive when we meet a new client and friend.
The Wigful Thinking team has been a family-owned passion since 2014. Caryl, the owner, is a two-time cancer survivor and understands the emotional toll on women when they lose their hair and eyebrows.
"I remember…and it is important to me that every woman is taken care of with a confidential, customized hair plan, support, and encouragement," says Caryl.
Olivia Reese, Caryl's granddaughter, is a certified cosmetologist with a passion for women battling breast cancer, alopecia, and more. "I worked for a breast cancer physician, and I wanted to make a difference. I knew I had to be a part of changing women's lives," says Olivia.
If you have questions about your journey or if a real hair wig, synthetic hair wig, or topper is the right option for you, give us a call at (609) 249-4811 for your confidential appointment.