Feel confident with easy to use natural human-hair wig eyebrows or reconstruction eyebrow gel.
Solutions for clients undergoing Chemotherapy or who have Alopecia.

---
Lash and Brow Gel
A unique blend of natural ingredients in a gel that can be used during and after chemotherapy.
With its reconstructive components, it can help maintain lashes and eyebrows during treatments.
Gel is applied to the base of eyelashes and brows 1-2 times daily. For best results, begin using before your first chemo treatment and continue for 60 days after treatment program is completed.
Many of our clients are having wonderful success with Brian Joseph's Lash and Brow Conditioning Gel. This great gel stimulates lash and brow growth at the cellular level. Ask Caryl for specific details.

---
Human Hair Eyebrows
Human hair eyebrows are soft, comfortable and lightweight.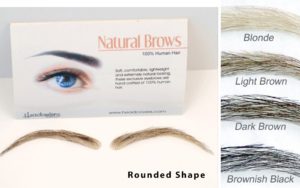 Visit our studio to shop for all of our eyebrow, head scarves and wig accessories:
1905 NJ-33, Hamilton Township, NJ 08690 | Phone:(609) 249-4811.