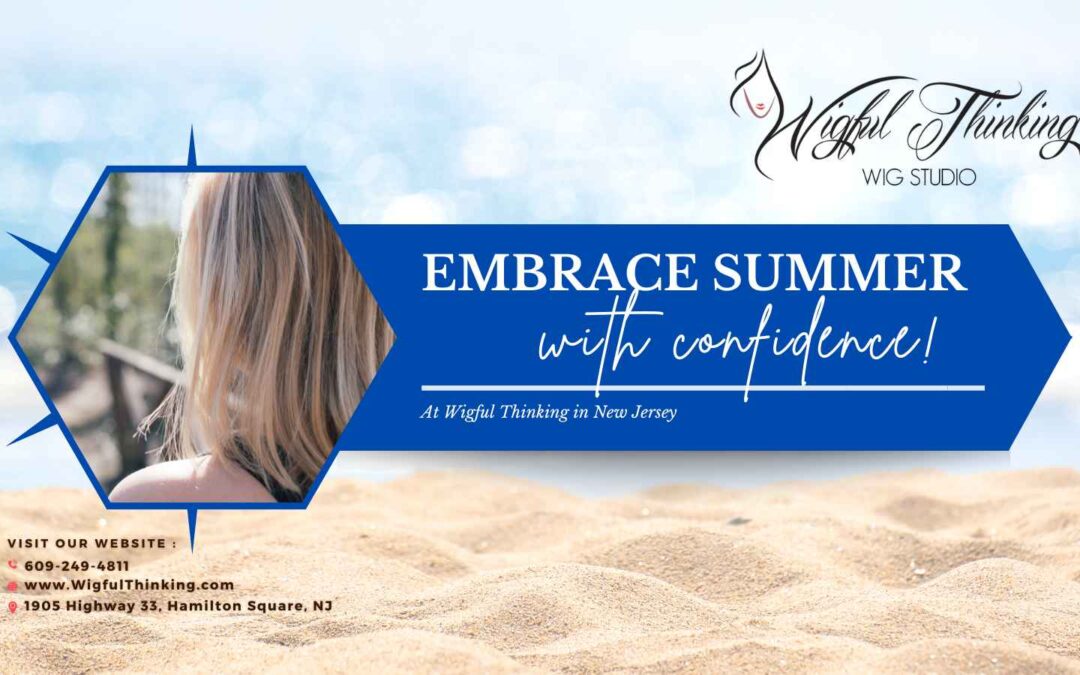 Embrace Summer with Confidence at Wigful Thinking – As we bask in the warmth of the summer sun and delight in the vibrant colors of the season, it's a time to be outdoors, enjoy barbeques and picnics, and savor the exhilarating air of the Jersey Shore. However, summer can bring unique challenges for individuals dealing with medical hair loss. At Wigful Thinking in New Jersey, we understand these struggles and are here to ensure that your summer is filled with nothing but joy and confidence.
More than a Wig Studio
Wigful Thinking is more than a wig studio; it's a sanctuary of understanding, empathy, and empowerment. Caryl, the heart and soul of our studio, and her granddaughter Olivia infuse every interaction with compassion and expertise. From alopecia, trichotillomania, and hormone deficiency to hair loss resulting from chemotherapy and medications, we have a solution for every hair loss challenge.
Embrace Summer with Confidence at Wigful Thinking
As we step into the heart of the summer, heat, and humidity become significant factors affecting wig wearers. However, with the right wig selection, maintenance, and accessories, you can enjoy the season without worry. We offer a wide range of lightweight, breathable wigs that are perfect for the summer months. Additionally, our selection of head wraps can offer you stylish sun protection and cooling comfort.
Our human hair eyebrows are another summer essential. Designed to mimic the natural look and feel of real eyebrows, they offer a beautiful complement to your wig, enhancing your facial features and boosting your confidence.
We also understand the importance of wig maintenance, especially during summer. High temperatures and increased sweating can affect the longevity and appearance of your wig. But worry not! Wigful Thinking provides professional maintenance services to keep your wig looking fresh, vibrant, and ready for all your summer adventures.
At Wigful Thinking, we believe that hair loss shouldn't limit your enjoyment of life's beautiful moments. Summer is a time for relaxation, rejuvenation, and fun. So embrace the sunshine, dive into the blue ocean, and let your confidence shine. We're here to help you look and feel your best, providing a touch of "Wigful" optimism in every product and service we offer.
Whether it's your first summer with hair loss or you're an experienced wig wearer looking for a seasonal change, Wigful Thinking is your trusted partner in navigating your hair journey this summer.
Contact Us
Visit us at wigfulthinking.com, or contact Wigful Thinking at 609.249.4811 with questions, to schedule a service, or to request your one-hour wig consultation in our design studio.
Visit us on Facebook: https://www.facebook.com/wigfulthinkinghamilton
Visit us on Instagram: https://www.instagram.com/wigfulthinking/