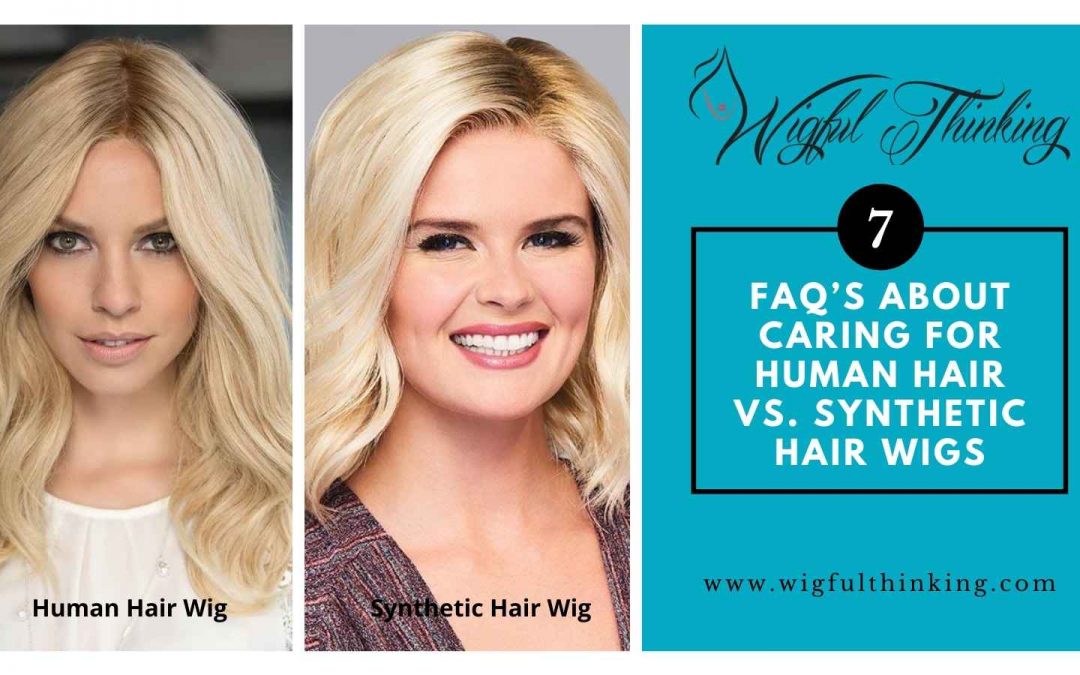 When choosing a wig, there's more to consider than simply style. In addition to lifestyle, purpose, and price, choosing between human and synthetic hair can be a challenge. Gone are the days when synthetic hair wigs felt like a cheap substitute for human hair; today the appearances are virtually indistinguishable. Read on for FAQ's about Caring for Human Hair vs. Synthetic Hair Wigs.
Many of the differences between synthetic and human hair wigs, therefore, center on their daily care and lifestyle adaptability.
These 7 frequently asked questions may help you decide which type of wig is best for your needs.
Will other people be able to tell if my wig is human hair or synthetic?
Enhancements in wig composition make it difficult for observers to determine between synthetic and human hair wigs. While bargain synthetic wigs may have an unnatural shine, the majority of them look as natural as human hair. However, though synthetic visual quality is high, the texture of human hair wigs is more natural to the touch.
I like to change hair color often. Can I do that with synthetic hair wigs?
Though hair colorings will not adhere to the synthetic fibers, synthetic wigs are typically available in a vast array of colors.
Which type of wig is better for curly hair styles?
Human hair wigs are better suited for permanent waves and frequent heat styling. Synthetic wigs, on the other hand, utilize monofilament fiber "hair" which maintains waves or curls without re-styling. However, unless using a "heat friendly" synthetic wig, straighteners and curling irons will damage synthetic wigs.
Are synthetic wigs less expensive than human hair wigs?
The initial investment of a synthetic wig is less expensive than a human hair wig. However, since human hair wigs can last nearly twice as long as synthetic, duration and daily usage should factor into cost considerations.
How often should I wash my wig?
Keep in mind, frequent washings will shorten the lifespan of both synthetic and human hair wigs. While synthetic wigs can be simply washed, dried, and shaken to restore style, human hair wigs require more maintenance. In addition to washing, they also require deep-conditioning and restyling before wear.
I live in a humid climate. Does that affect the type of wig I should buy?
Human hair wigs often become frizzy or lose volume in response to weather. The memory style of synthetic wigs allows them to maintain their shape and style in any weather.
Does a synthetic hair wig last longer than a human hair wig?
Typically, the opposite is true. With proper care, human hair wigs can last a year while synthetic wigs need replacing after 4-6 months.
At Wigful Thinking, we know that the right wig is one that best fits the customer's needs. A wig shouldn't interrupt your lifestyle but, rather, incorporate seamlessly into it. We're honored to assist you in choosing the best wig for your needs and your lifestyle.
Contact Wigful Thinking at 609.249.4811 with questions, to schedule a service, or to request your one-hour wig consultation in our design studio today. Walk-in appointments are temporarily on hold.
Visit our Facebook page here: https://www.facebook.com/wigfulthinkinghamilton