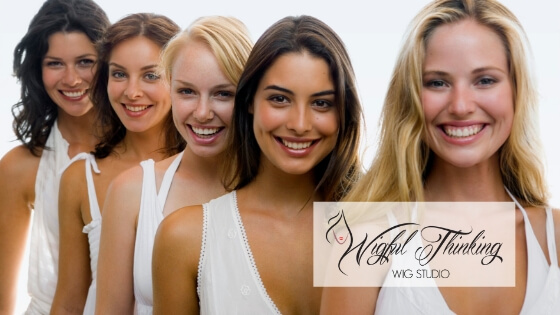 When choosing a wig at Wigful Thinking we are careful to help you choose the perfect wig to match your skin tone.
Find a shade that matches you
When picking a wig color you want something that will not leave you looking harsh or washed out. The first thing you need to figure out is what color family your skin tone falls into.
Warm tones
Warm undertones range from peach to yellow and golden. Usually, this skin tone looks great in red, peach, coral, orange, amber, gold, and yellow. You also should look great when you wear "warmer" versions of cool colors, like olive, moss, orchid, and violet-red.
If you have a warm-toned skin pick a wig color in a cool tone to complement it such as ashy blondes, cool browns, and brassy reds. Silvery blonde colors look beautiful on people with pale, warm-toned skin. If you prefer a darker shade choose a brunette in a cooler tone such as rich black-brown. Medium to dark warm-toned skin should opt for two to three shades lighter or darker than your natural hair color.
Cool Tones
Does your skin look better against the blue and green shirts? You have cool toned skin. Pick a hair color that is rich and warm. Look for words like "warm," "honey," or "chocolate." Beachy golden blonde, orangey reds, or rich brown tones are lovely with pale cool-toned skin. Medium to dark cool-toned skin is complemented by a rich, chocolate hue.
Age with beauty
Choosing the right wig color is a matter of which stage of life you are in. As we get older, lighter hair tends to be more flattering than darker shades. Lighter, warm shades provide a softer, more natural appearance to paler skin tones. Don't be afraid to choose a gray color. It is usually the most flattering!
Keep in mind if you're going through chemotherapy treatments, your skin may start looking paler than usual. An easy way to compensate for that is to choose a wig that is two or three shades lighter than your natural color.
Complimentary Consultation
Contact Wigful Thinking to request a complimentary one-hour wig consultation in our design studio. Our talented staff is here to serve you.