National Hair Loss Awareness Month – Observed every August, National Hair Loss Awareness Month highlights the importance of hair loss and the impact that it can have on our lives. According to research, over 80 million Americans are affected by hair loss, and 40% of those affected are actually women. Chances are that either you or a loved one is currently suffering from it, or have done so in the past.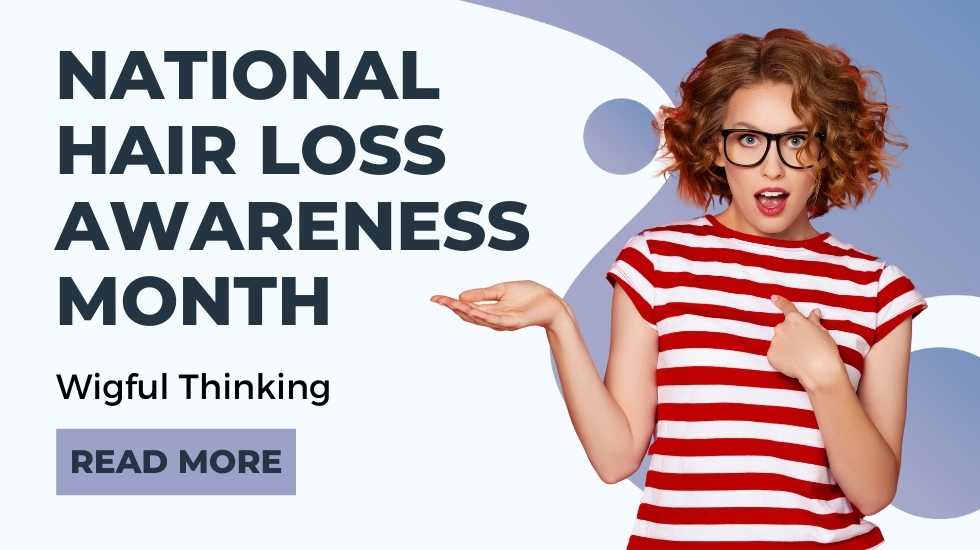 The goal of observing this month is to spread awareness about hair loss and to educate and empower those who are seeking potential causes and treatments. Many people are hesitant to talk about hair loss, even though it is a growing issue that affects such a large number of us. And we all know that one of the first things you notice about someone is their hair.
Factors that can affect hair loss
There are several factors that can affect hair loss, including heredity, alopecia, acute stress, disease, medical treatments (like chemotherapy), strong medications, dietary restrictions, COVID, grooming and styling practices, trauma, and even pregnancy.
Solutions for Hair Loss
At Wigful Thinking, we are here to offer solutions for your hair loss. We know that when your hair looks good, you feel more confident. We offer an assortment of wigs in the latest styles and take each client's personal style, lifestyle, and personality, along with facial features, and compose the best possible hair design.
Experiencing hair loss can be a traumatic experience, but we are here to offer compassion and understanding to help you or your loved one through this difficult time. We will be here with you every step of the way. We promise that you will leave our studio with newfound confidence once you find the perfect hairpiece for your lifestyle.
About Wigful Thinking
We can accommodate any level of hair loss including alopecia, trichotillomania, hormone deficiency, chemotherapy, hair loss from COVID, and hair loss resulting from medications. To take full advantage of everything Wigful Thinking has to offer, it is important that our clients take the time to book an appointment. We completely understand that many clients are undergoing treatment, and we will make every effort to accommodate our clientele. Make your appointment today by calling: 609-249-4811. Also, feel free to visit our website at https://www.wigfulthinking.com/
Follow Wigful Thinking on Facebook – https://www.facebook.com/wigfulthinkinghamilton