Caring for your scalp during chemotherapy – As with most cancer treatments, everyone's symptoms and responses are unique throughout chemotherapy. For many, though, hair loss from chemotherapy can make the scalp feel dry, itchy, tender, or sore. Likewise, rashes and flaky, dry patches (or cradle cap) are also common symptoms of hair loss. Fortunately, though, there are methods to alleviate an irritated scalp.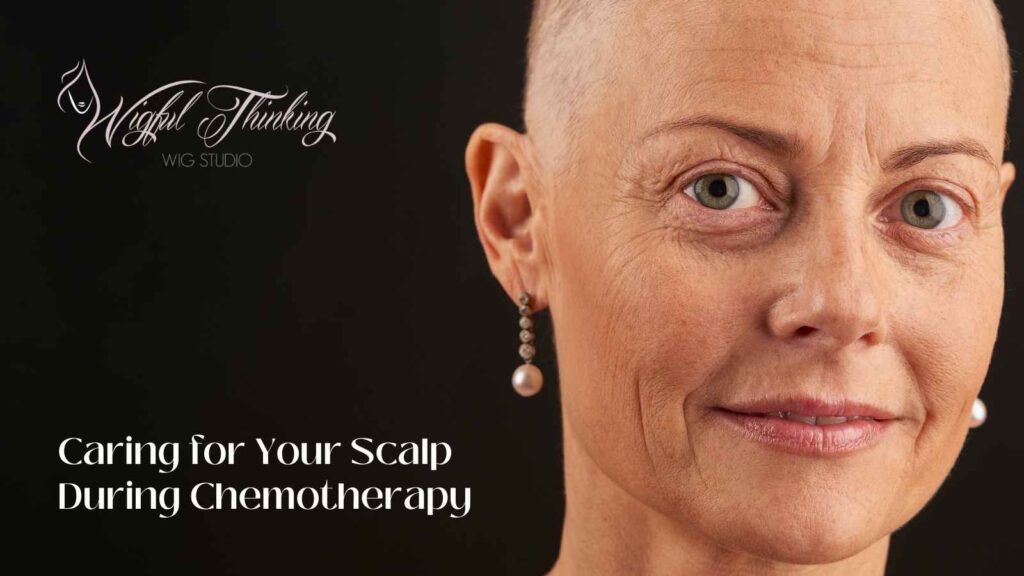 Caring for Your Scalp During Chemotherapy
Determining which of these SCALP methods works best for you is essential since each experience is unique… especially while undergoing treatments.
Shampoo.
Keeping the scalp clean is important to avoid infection. However, daily shampooing often isn't necessary. Washing less frequently, every 2-3 days, may prevent itchy, dry patches.
Chemicals.
Reading shampoo, soap, and sunscreen labels is essential as many chemical additives can cause irritation, particularly if the skin is sensitive. Try to avoid products using harsher chemicals: sodium lauryl sulfate and parabens, as well as paraben derivatives "ethyl-, butyl-, propyl, and/or methyl-."
Attention to Fragrance.
Like the above chemical additives, synthetic perfumes and fragrances can also adversely affect the skin. If using scented products, opt for aromas created from pure botanicals (the botanical name is usually included in the ingredients).
Liniment Balms.
Naturally soothing liniment oils and balms: aloe, organic evening primrose, organic sea buckthorn, and/or organic jojoba seed oils offer beneficial nutrients vs. mineral oil / petroleum-based lotions and balms.
Professionals.
Ensuring your wigs are fitted for comfort by professionals minimizes scalp irritation. Additionally, professionals can suggest products, headwraps, and wig cap materials best suited for individual needs and relief.
At Wigful Thinking, we know there are many uncertainties throughout cancer treatments. One definitive, though, is our commitment to you. We offer more than high-quality wigs and various studio services; we provide understanding and compassion to your individual experience.
We know that choosing a new wig doesn't always change life's circumstances, but increased confidence and comfort empower clients to embrace each new day.
Contact Us
Visit us at wigfulthinking.com, or contact Wigful Thinking at 609.249.4811 with questions, to schedule a service, or to request your one-hour wig consultation in our design studio.
Visit us on Facebook: https://www.facebook.com/wigfulthinkinghamilton