7 Ways to Honor Women with Breast Cancer – Since 1985, the American Cancer Society has raised awareness each October to raise funds for cancer research and to raise awareness that each of us needs to support those with breast cancer in our lives.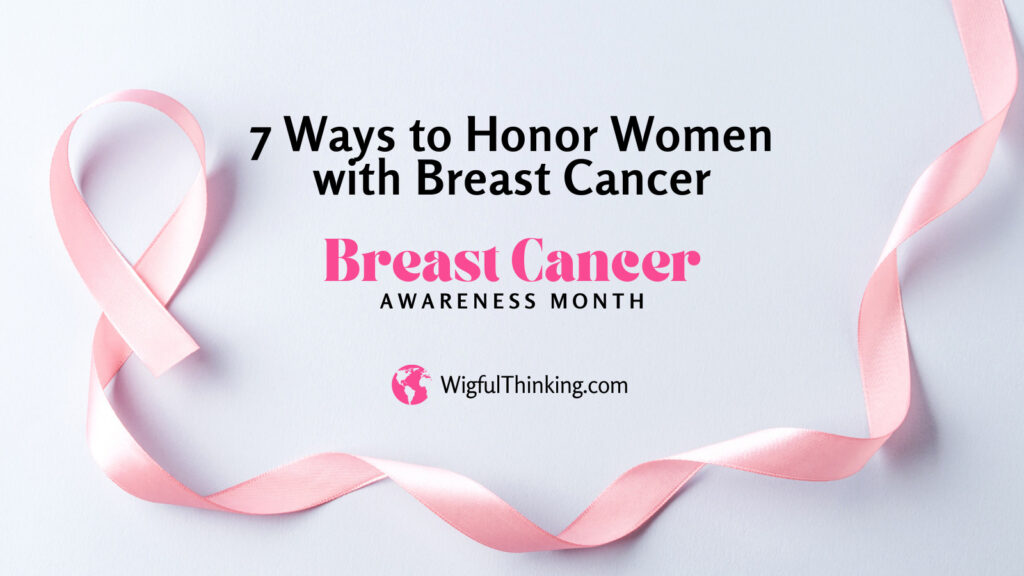 Some of us may know women undergoing breast cancer right now. Others of us may know breast cancer survivors.
7 Ways to Honor Women with Breast Cancer:
Let them know you remember them. Give them a call. Don't be afraid of bothering them or calling at the wrong time. You can always leave a message and let her know you were thinking about her.
Mail a card so they know they are not forgotten. If your loved one is a survivor, send a card this month to celebrate! If they are currently walking through the journey of breast cancer, a card can lift their spirits.
Cook them a meal in celebration, or so they have the strength to continue to fight. Just ask first when would be a good time. Sometimes those going through chemotherapy have trouble eating. But even if your meal is not something she can eat, what a relief it would be not to have to cook for the rest of the family.
Wear pink. Ask others about the breast cancer patient in their lives when you see them wearing pink.
Sign up to run or walk a local cancer walk to raise money for cancer research. You could even gather together a team of friends to walk together. You could also find a Relay for Life near you.
Be a good listener. Ask questions, and don't presume you know the answers. If your loved one is a survivor, listen to them tell about their victory. Let them explain what it took for them to survive.
Help them look their best. Offer to come to Wigful Thinking with them while they choose a wig. Shopping for a wig can feel overwhelming, and many women want to make sure they pick the right one for them. Offer to come with your friend or loved one and offer your honest opinion in helping them choose the right hairstyle for them.
Caryl, the owner of Wigful Thinking, is a survivor. She has fought cancer and won. Twice.
Her warmth and compassion for others are evident as you walk into Wigful Thinking. Because of her experience, she has determined to help others who are right now walking through what she has been through. Call today to schedule your consultation appointment. Phone: (609) 249-4811
Visit us on Facebook: https://www.facebook.com/wigfulthinkinghamilton